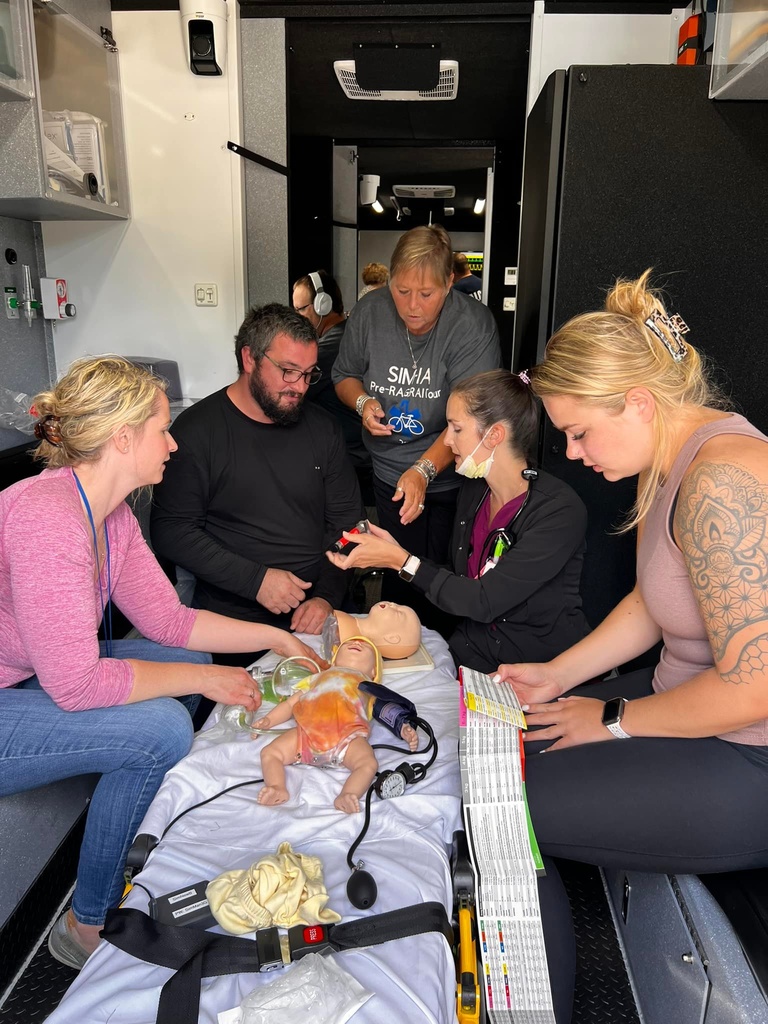 Every July, 10,000 cyclists from across the nation arrive in Iowa for the Register's Annual Great Bike Ride Across Iowa, an eight-day bicycle ride across the state. Towns along the route spend months preparing for the influx of riders; this year, thanks to the Simulation in Motion – Iowa (SIM-IA) program, emergency responders in eight of the host towns received extra preparation. Beginning in Sioux City and ending in Lansing, the SIM-IA pre-RAGBRAI tour gave local emergency health care providers a chance to practice their skills with simulated clinical scenarios they might encounter during the ride.
The first SIM-IA mobile education truck arrived in June, and the timing of RAGBRAI presented a great opportunity to begin delivering high-quality, evidence-based education across the state. To make sure the education simulations were relevant, the SIM-IA team talked with providers about the calls they typically get during the ride, said SIM-IA Senior Advisor Jacinda Bunch, PhD, RN. SANE-A, NREMT. Based on these conversations, the chosen simulations included a woman who was dehydrated and overheated, a man with trauma from a bike-tree collision, and an infant with a head injury from falling out of their improperly secured bike carrier. 
Although focused on RAGBRAI-related injuries, the simulation trainings also led to other important learning opportunities for providers. While treating the infant trauma, Bunch recounted, participants in one town realized they didn't know whether to take the patient to the pediatric hospital or the trauma hospital. Finding the answer to questions like that in a simulation can save precious time during a real call.
All told, the SIM-IA pre-RAGBRAI tour educated 172 emergency health care providers in seven counties along the RAGBRAI route. As a result of the tour, another eleven new trainings have been scheduled.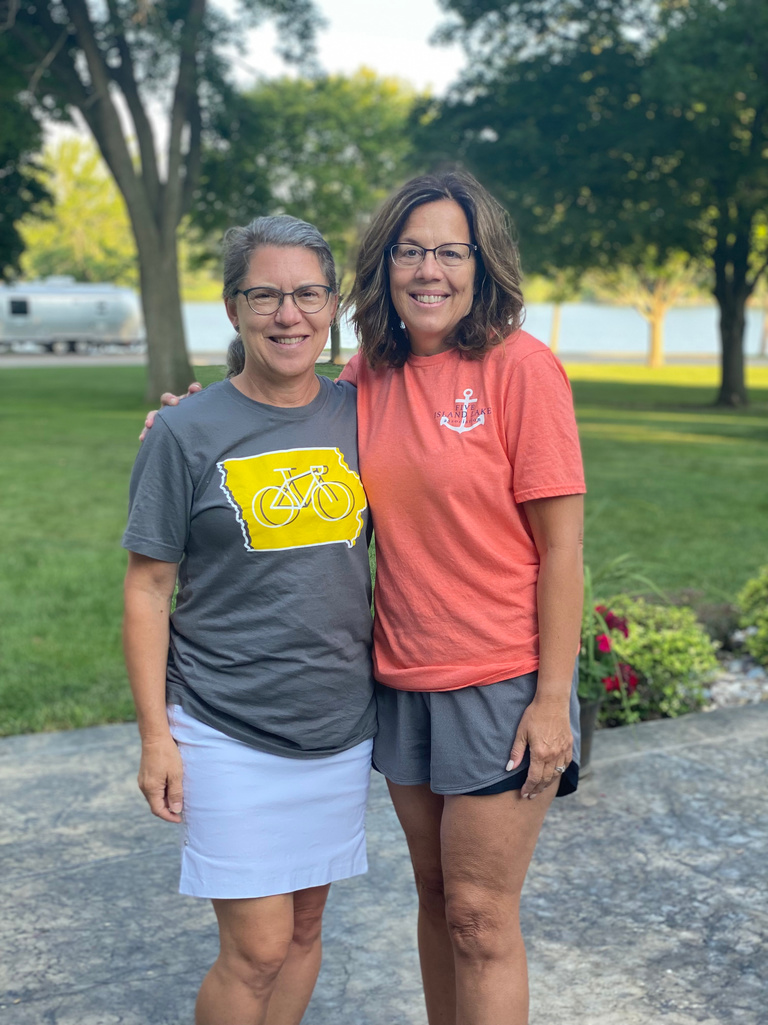 "We've really enjoyed it," said Bunch. "All of the communities have been welcoming, and it has been nice to get out, go across the state, and serve these providers. They're taking care of their communities, and this is a way we can help them do that."
The SIM-IA trainings were new this year, but College of Nursing Executive Associate Dean Sandy Daack-Hirsch, PhD, RN, FAAN, has participated as one of the UI team support crew members for the past two years. As a member of the crew, she directly supports UI team riders and connects with local communities and other riders to promote the university. "Injuries can occur at any time, and I am there to assess the severity," Daack-Hirsch stated. According to Liz McIntire of the Office of the President, Daack-Hirsch is a key support crew member in other ways as well. "Sandy is masterful at having thoughtful conversations with our hosts—which is our greatest touch point as crew members. Every year, we come away with incredible stories about how the university has impacted lives across the state… There's always a connection to be made, and those conversations happen in lawn chairs during RAGBRAI," McIntire said.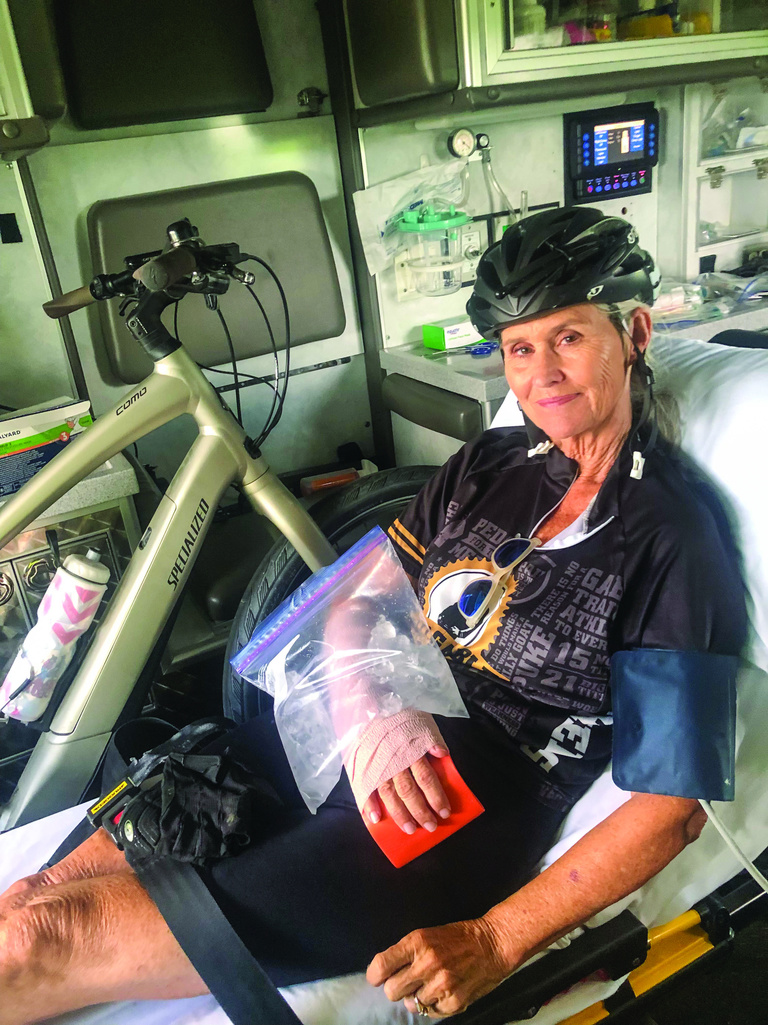 An avid cyclist who has participated in the ride for many years, Kelting Professor of Nursing and Associate Dean for Faculty Keela Herr, PhD, RN, AGSF, FGSA, FAAN broke the radial head in her arm while on the ride this year and was taken by ambulance to the nearest hospital in Charles City. Hearing she was from the University of Iowa, her emergency room doctor told her he had recently attended the pre-RAGBRAI SIM-IA training. "He raved about it," Herr recalled. "He said it was far superior to any training he and his team have received and will be a great asset to the state and rural communities." 
► Read more from the 2022 College of Nursing Magazine