Welcome
Welcome
Greetings,
What a great year to be an Iowa Nurse! As I reflect on academic year 2021-2022, I am pleased to share a few of the accomplishments of our faculty, staff, and students. The vibrancy in the college is at an all-time high and students are excited to be learning in the classroom and in clinical environments throughout Iowa.
In this issue of the Annual Magazine, you will learn about the partnerships between the UI College of Nursing and community colleges in Iowa with RN-BSN 3+1 program articulation agreements and the impacts they have on the state, student summer internships at University of Iowa Hospitals and Clinics, and our outstanding faculty and staff.
As we look to the future and face the nursing shortage, we continue to seek ways to address this challenge. In spring 2023, we will enroll our first cohort of students into the Master of Science in Nursing - Entry into Practice program. This full-time, accelerated program is designed for individuals with a non-nursing degree wanting to become practicing nurses. Our five-semester program will launch high-achieving professionals into a career in nursing.
It is because of our students, faculty, staff, alumni, and friends that the College of Nursing continues to achieve excellent rankings among our academic programs, graduate industry-prepared nurse leaders, and offer an innovative and impactful education from acclaimed faculty. Thank you.
Go Hawks!

Julie Zerwic, PhD, RN, FAHA, FAAN
Kelting Dean and Professor
Change Makers: Faculty and staff at the forefront
"Health really starts with housing, food, and family, and so I think we need to rethink what health is and start at the basics."

–Emily Sinnwell, DNP, ARNP, FNP-BC, PMHNP-BC
The University of Iowa continues to climb in the U.S. News & World Report Best BSN and Graduate School rankings. According to the 2023 report, 66 UI colleges and programs were recognized among the best in their field. Four of these programs, all in the College of Nursing, received a top-10 ranking. The BSN program moved up one spot to number nine in the country!
HAWKYEYE

Give BACK
THE UI COLLEGE OF NURSING UNDERGRADUATE PROGRAM is ranked ninth in the nation and five graduate nursing programs are ranked in the top ten. Our graduates are sought after as highly skilled professionals who have received a rigorous education of the highest quality. Alumni and friends play an important role in our success by STAYING CONNECTED and GIVING BACK.
DID YOU KNOW?
From July 1, 2021, to June 30, 2022,
962
alumni and friends
came together to commit
$7.5M+
in donations to support
current and future nursing students,
faculty, and innovative programs.
2022 Giving by 

THE NUMBERS

162
students received donor-funded
scholarships last year.

740
nursing alumni checked in
at special events.

Donations fueled innovative
research—to the tune of
$648K

Donors stepped up on
One Day for Iowa, giving more than
$12K

UI FAMILY WEEKEND
Kick off your weekend of Hawkeye family fun with our College of Nursing Pancake Breakfast before heading to Kinnick for the game.
DETAILS COMING SOON!
See photos from the inaugural event:

ONE DAY FOR IOWA
Mark your calendars for the University of Iowa's 24-hour online giving day. Follow us on social media and watch your email about ways to join the Hawkeye community in making an impact.
March 29, 2023

MNRS COMES TO DES MOINES
In March 2023, the College of Nursing will host the 47th Annual Midwest Nursing Research Society Conference at the Iowa Events Center in Des Moines.
REGISTER AND FIND OUT MORE
MARCH 29—APRIL 1, 2023

125TH ANNIVERSARY
We're celebrating 125 years of nursing at Iowa next year! Our anniversary weekend will also be a chance for alumni to reunite and meet the next generation of nurses, leaders, and scientists.
Keep an eye out on social media and your email inbox for more information at a later date.
Anita Hockett (51GN)
Seventy-one years after graduating, Anita remains active as an RN, has founded and served as clinical director of a free clinic, and Volunteers In Medicine for 26 years. She received the Distinguished Alumni Award from the College of Nursing in 2011.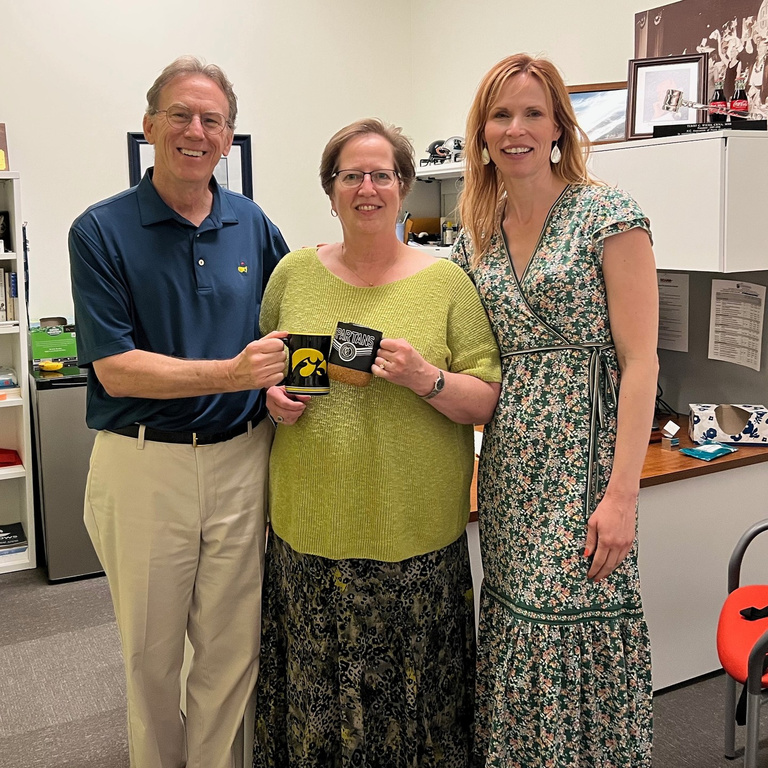 Terry C. Wicks (18DNP)
Terry is a clinical assistant professor in the UNC DNP nurse anesthesia concentration, welcomed UI College of Nursing Dean Julie Zerwic to his Union Square Campus. Dr. Wicks, who earned his DNP from Iowa, was happy to give Dean Zerwic a UNCG coffee mug during her visit.
"The education I received at the University of Iowa College of Nursing­—both as an undergraduate and again as a DNP candidate­—have proven to be the stepping stones to the successful nursing career I have enjoyed as a clinician, leader, and educator."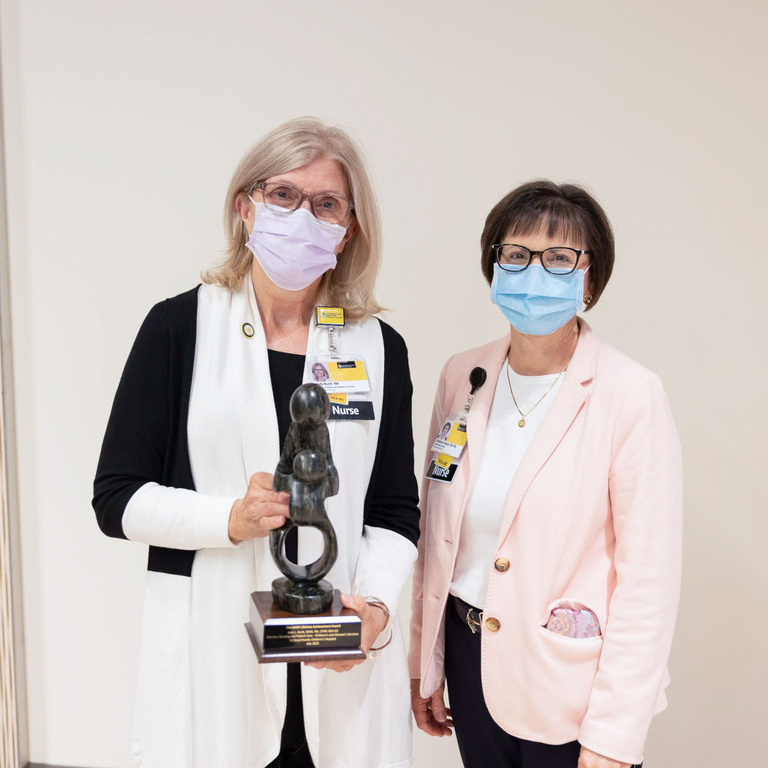 Jody Kurtt (90MA)
Jody received the DAISY Lifetime Achievement Award in July 2022, an award given to nurses who dedicate their life's work to the care of others. 
Ann E. Rogers (75BSN)
Ann was inducted into the Sigma Theta Tau International Nurse Researcher Hall of Fame in Edinburgh, Scotland.
In Memoriam
1940s
Bernice (Weede) Havlicek, 40BSN
Irmgard (Lehner) Eden, 42BSN
Margaret (Williams) Loghry, 43BS, 43GN
Ruth Cruikshank, 44GN
Edith (Gensicke) Henningsgaard Miller, 45BS, 45GN
Lorraine (Kammerdiner) Miller, 46GN
Dorothy (Mauser) Krogstad, 47GN
Marie (Coobs) Daley, 48GN
1950s
Lois (Gutz) Coon, 50GN
Evalyn Geraldine (Wygle) Mollman, 50GN
Jeanie Jenean Monroe Quinn, 50GN
Murtis (Gordanier) Smith, 50GN
Martha (Francis) Figg, 51GN
Marilyn (Howard) Hess, 51GN
Juanita (Van Osdol) Cloyed, 52GN
Carolyn (Lindahl) Moen, 52GN
Marie (Proehl) Graves, 53BSN
Wayne Henry, 53BSN, 55MA
Phyllis S. (Schultz) Wenglein, 53GN
Ellen (Koopman) Overholtzer, 54BSN
Lois (Plummer) Hartline, 55BSN
Mary Frances (Lantz) Osborne-Pieper, 55BSN
Janet (Brant) Schmidt, 55BSN
Janet (Terry) Hedberg, 55GN
Elna (Larsen) Hendrickson, 55GN
Paulette (Berry) Hradek, 55GN
Joyce (Postel) Roberson, 55GN, 58BSN, 75MA
Donna Lu (Conover) Jones, 56BSN
Dixie (King) White, 56BSN
Maxine (Kloppenburg) Brammer, 57BSN
Mary (McClatchey) Christensen, 57BSN
Jean Kasper, 57BSN
Nancy J. (Johnson) Park, 57BSN
Minta S. (Smith) Uzodinma, 57BSN
Jeanette (Hoffman) Waters, 57BSN
Mary Anne (Edmund) Anderson, 58BSN
Sheila (Telford) Banwell, 58BSN
Charlene (Himrod) Ver Steeg, 58BSN
Sharon (Cadwell) Foss, 59BSN
Jo Ann (Bielefeldt) Wagner, 59BSN
1960s
Jean (Hodges) Conway, 60BSN
Janice (David) Farley, 60BSN
Rhoada (Delfs) Molleston, 60BSN
Pauline (Langner) Stevie, 60BSN
Mary (Baker) Jones, 61BSN
Jane Kallaus, 61BSN
Doris Ann Flater, 61BSN, 68MA
Sharon (Lewis) Wagner, 62BSN
Rose Marie (John) Serra, 63BSN
Suzanne (Meier) Ward, 63BSN
Anna Agerbeck, 64BSN
Betty Gail (Scholtes) Flodin, 64BSN
Patricia (Berstler) Randall, 64BSN
Patricia (Kron) Boettger, 65BSN
Marilyn (Starkweather) McKinley, 65BSN
Judith (Akin) Lass, 66BSN
Marilyn (Graber) Leichty, 67MA, 72MA, 81PHD
1970s   
Jacqueline (Hollebeek) Clinton, 69BSN, 71MA
Helen Berg, 70MA
Sarah Bleeks, 71BSN
Mary Auterman, 71MA
Cynthia (Guhin) Mayer, 72BSN
Kay Litherland, 73MA
Cheryl (Hutchins) Christman, 74BSN
Susan H. (Hennings) Bode, 74MA
Sheila Drew, 75BSN
Susan Schmidt, 75BSN
Daniel Chaussee, 75MA
1980s
Rhonda (Scherer) Muhlenbruch, 82BSN
Karen (Vanderhart) Dillon, 83BSN
Natalie (Vickrey) Amhof, 86BSN
Karen (Christensen) Hansen, 87BSN
JoAnn Olson, 89MA
1990s
Linda Reed Fink, 92BGS, 97MSN
Sharon Sinnard, 95BSN, 98JD
Linda Murphy Ott, 97BSN
2010s
Kris Keyser, 11BSN
Taylor (Peterson) Bouska, 12BSN
Amy (Ganoe) Pretorius, 14BSN