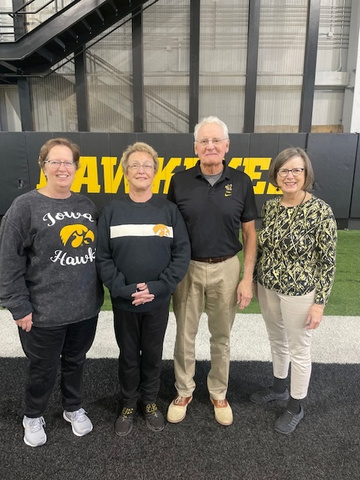 On July 22, 2022, The University of Iowa Center for Advancement announced that J.D. (69MD) and Jill (67BA, 69MA) Thoreson of Mason City, Iowa, had pledged $500,000 to establish the J.D. and Jill Thoreson Optimal Aging Initiative Fund. J.D. is a retired gastroenterology physician who has served Mason City for decades and Jill is a retired speech pathologist who, in addition to teaching, has spent years as a caregiver for aging loved ones.
Both are very passionate about healthy aging, believe strongly in the mission of the Barbara and Richard Csomay Center for Gerontological Excellence, and were impressed with the work of the Center. Their dedication to the principles of health aging led to the creation of the new initiative.
"Their investment helps launch much-needed programs at a critical time for all Iowans," said Director of Development Dayna Ballantyne. "According to the Iowa Department on Aging, Iowa's population of adults aged 65 and older will constitute nearly 20 percent of the state's population by 2050, which makes support for the aging population more important than ever." 
Together, the Thoreson Initiative and the Csomay Center will advance the discovery and adoption of age-friendly practices which promote self-care and provide access to health information using the latest technology, thus helping to ensure that Iowa becomes a leader in delaying frailty and maintaining optimal health as we age. Work is underway on campus and across the state.
"I am pleased to report that we have begun developing a new online gerontology course for nurses in rural areas which will focus on health promotion activities to improve healthy aging in rural Iowa", said Harleah Buck, PhD, RN, FPCN, FAHA, FAAN, director for the Csomay Center. "This new course will provide an opportunity for practicing nurses in Iowa to gain the knowledge needed to inform patients and caregivers of best practices as they make their health decisions."
For more information about how you can support the Csomay Center, contact Dayna Ballantyne at dayna.ballantyne@foriowa.org or 319-331-4135.
► Read more from the 2022 College of Nursing Magazine