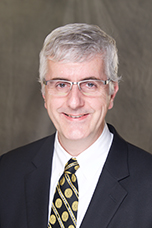 Cormac O'Sullivan, PhD, CRNA, ARNP, associate clinical professor and director of the Anesthesia Nursing Program, was designated a Fellow of the American Association of Nurse Anesthesiology, the professional organization for more than 60,000 Certified Registered Nurse Anesthetists (CRNAs) and student registered nurse anesthetists.
The FAANA designation is a major career achievement that recognizes accomplished leadership in the profession. "We recognize Cormac as a leader who has demonstrated a depth of expertise that is critical to shaping the future of anesthesia care," said Lorraine Jordan, PhD, CRNA, CAE, FAAN, Chief Advocacy Officer of AANA and CEO of the AANA Foundation. "Earning this distinction signifies a commitment of excellence and dedication to making impactful changes for our profession."
O'Sullivan began teaching nurse anesthesia at Iowa in 1996. In 2009, he became director of the program and transitioned it to one of the first Doctor of Nursing Practice–Nurse Anesthesia programs in the country. He was recognized as Anesthesia Program Director of the Year by the AANA in 2019 and received the Collegiate Teaching Award from the University of Iowa College of Nursing in 2018. He is the author of numerous articles and cowrote a chapter on perioperative crisis management in the recently published textbook, Nurse Anesthesia 7th Ed. O'Sullivan also serves as Senior Advisor for the Simulation in Motion— Iowa program. 
O'Sullivan is one of 52 CRNAs who received the Fellow designation in 2022 and one of only 116 to receive the designation to date. According to the AANA, to be awarded the FAANA distinction,  applicants must be credentialed as a CRNA for a minimum of 10 consecutive years, have a minimum of 10 years of full-time professional experience, demonstrate outstanding achievements in nurse anesthesia and leadership that command respect and recognition from other leaders in the profession, and provide evidence of enduring and substantial professional achievement that demonstrates professional and personal growth and use of innovative, creative solutions in at least one of  several categories.
► Read more from the 2022 College of Nursing Magazine