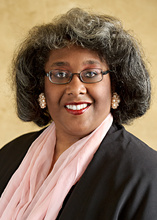 The Iowa State Education Association awarded College of Nursing Director of Diversity, Equity, and Inclusion Valerie Garr the 2022 Paul Mann Memorial Human Relations Award at the association's banquet in Des Moines. 
The ISEA award honors an individual or group for exemplary contributions toward the advancement of human and civil rights. Garr is the president and founder of the Quad-City Minority Partnership, a not-for-profit organization that seeks to address the high school and college achievement gap among minority and first-generation students. 
"Valerie is an effective and creative leader who has successfully grown a program benefiting thousands. Her devotion to enhancing and broadening opportunities for diverse student communities is a vital connection to equitable opportunities for all students. We are pleased to be able to present Valerie with the ISEA 2022 Paul Mann Human Relations Award for her tireless work, progress, and success," ISEA President Mike Beranek said in an ISEA news release. 
Garr has worked at the College of Nursing since 2008 and at the University of Iowa since 1986. She is a founding member of various diversity-focused educational initiatives, including the Iowa Edge Program for newly enrolled underrepresented undergraduate students. At the College of Nursing, she works with faculty members to create inclusive coursework in an effort to align with The Future of Nursing 2020-2023 Report. Garr collaborates with members of the Big 10 Academic Alliance on diversity initiatives and has held DEI sessions with partners across the UI campus and University of Iowa Hospitals and Clinics.
► Read more from the 2022 College of Nursing Magazine