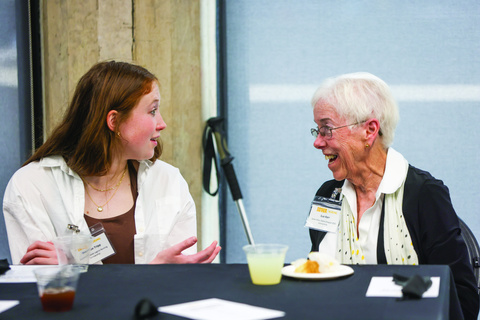 The College of Nursing connected donors and students for the annual Scholarship Tea on Sept. 16, during University of Iowa Family Weekend. With more than 80 Iowa Nursing supporters in attendance, conversation and laughter filled the Gerlach Family Student Commons West as students shared their appreciation and the impact scholarships have on their ability to make the most of their Iowa Nursing education. 
College of Nursing Dean Zerwic expressed gratitude and shared the significance that scholarship support has on students. In academic year 2021—2022, the College awarded more than $380,000 in donor-funded scholarships at the undergraduate, graduate, and professional levels. 
"Because of your support, more students have the ability to attend this top-ranked College of Nursing and dedicate themselves to their academics and skills to become great nurse leaders of tomorrow," Zerwic expressed.
Current PhD student Jesse Weiss (20BSN, 22MSN) credits a large part of his college career to donor support. 
"Early in my undergraduate education, I was selected to participate in the Nancy Stence Creason Young Nurse Scientist Program," Weiss said. "This program provided me with mentorship, resources, and financial support as I engaged in research with faculty over at the hospital."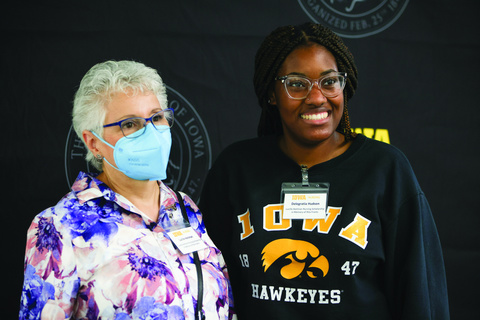 Donor support means nursing students have more time to focus on their studies and reduces some of the pressure of paying for college. 
Lucille Heitman (82BGS, 82GER) connected with her scholarship recipient Delgratia Hudson, a third-year nursing student, and learned of Delgratia's experience working at the Oaknoll Retirement Residence in Iowa City. Because of this opportunity, Delgratia identified her passion and hopes to work in long-term care in the future. 
"It was very meaningful and uplifting to meet the recipient of my scholarship this semester," Heitman said. "As I told Dean Zerwic when I was leaving, it's easier to write the check when you know there's a human being at the other end who will benefit."
Aubri McClung, a third-year nursing student, said "Growing up, the idea of attending the University of Iowa as a nursing major sounded like an unrealistic dream to me, but because of donor support, it is now my reality. I look forward to making a difference in others' lives, just as they have done for me." 
► Read more from the 2022 College of Nursing Magazine