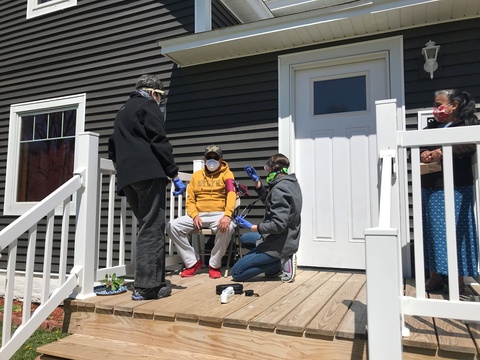 For Emily Sinnwell, DNP, ARNP, FNP-BC, PMHNP-BC, providing health care starts long before a person begins to feel sick or goes in for a check-up – it starts with making sure basic needs are met. 
"Health really starts with housing, food, and family, and so I think we need to rethink what health is and start at the basics," she said. "I believe that we can't address some of these bigger issues like diabetes and depression if we can't even address the basic needs for somebody to survive."
Sinnwell, who is dually certified in family and psychiatric mental health, strives to put these beliefs into practice both in her clinical work and outside of it. She has more than 15 years of experience working in Mexican, immigrant, and migrant farmworker communities, co-founded the Iowa City Catholic Worker House, and is a provider for federally qualified health center Proteus, Inc. In 2020, she won the Iowa City Human Rights International Award for her work advocating for immigrant and refugee rights.
For the past two years, much of Sinnwell's work has focused on pandemic-related healthcare, both physical and mental, for Iowa's essential workers. In Columbus Junction, a city of 1,830 whose largest employer is a meat-packing facility, more than 500 workers tested positive for COVID-19 by April 2020, and the ripple effects continue. At the request of Columbus Junction community members looking to address the impact of the pandemic on high school-aged youth, Sinnwell worked with a Carver College of Medicine student and community partners to conduct three bilingual mental health support groups at the high school, one for parents, one for kids, and one that brought them together.  
Sinnwell says she doesn't see a lot of serious mental illness in these populations but, because of the discrimination and trauma they've experienced, she sees a lot of depression, hopelessness, fear, panic, and anxiety. "I think a big part is listening to people. We do a lot of listening to their stories and what they've been through, and that's health," she said. 
In November 2021, Sinnwell and her community partners received a $250,000 grant from the Iowa Department of Public Health Iowa Initiative to Address COVID-19 Health Disparities. According to the application, the Initiative funded projects across the state to address needs related to social determinants of health and work with social service providers and related organizations to reduce COVID-19-related health disparities in disproportionately affected, higher-risk populations.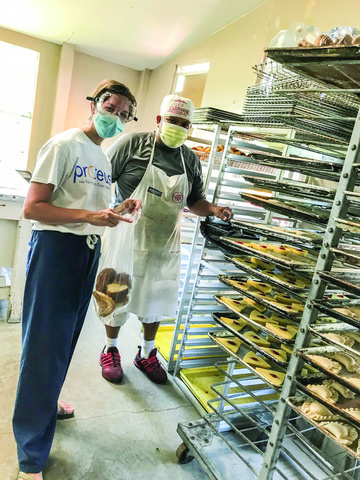 This grant allows Sinnwell and her collaborators to continue their outreach and health promotion work and reach a broader population. They organize meetings on vaccine safety, community healthcare, and social service coordination across east and southeast Iowa. They help people with online vaccine appointments, ordering free tests, and encouraging them to engage in their own health. This work takes place in schools and on front porches, in migrant camp laundry rooms and farm cafeterias, at church after mass, and on social media.
"This COVID-19 grant gave us the tools to continue organizing people around issues that affect their health," said Sinnwell. "We know that the pandemic really highlighted all of the discrepancies or the vulnerabilities among these populations. Hearing from the workers, hearing their stories, hearing what's missing – if you don't have paid time off for sick leave, you can't isolate during COVID or take care of your children."
They also work with regional partners to coordinate mobile healthcare and vaccine clinics. Recently, a vaccination clinic in rural southeast Iowa involved Bell's Melons (the grower), Johnson County Public Health, Trinity Muscatine Public Health, and Proteus, Inc. (the medical provider). Bell's brings in hundreds of migrant workers on temporary visas every year to detassel, with many of the same workers returning year after year. The team vaccinated nearly 100 farmworkers with the latest COVID-19 booster. "That feels good because we can send them home boosted and protected, and it's the right thing to do in our community," said Sinnwell. 
► Read more from the 2022 College of Nursing Magazine