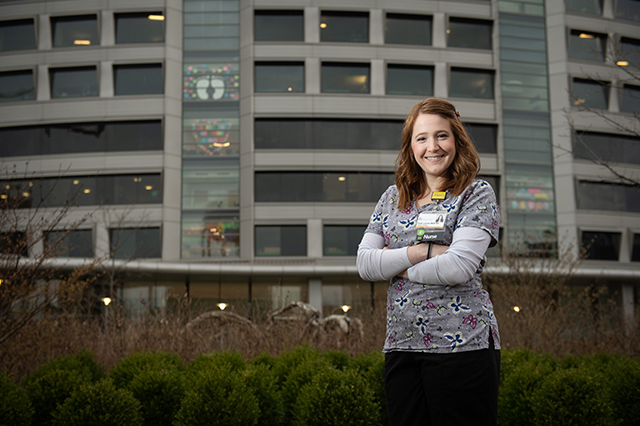 As a doctoral student in nursing at the University of Iowa, Elyse Laures is studying pain assessment in children who are sick. She hopes to decrease their lengths of stay in pediatric intensive care units and expedite their healing.
By Sara Epstein Moninger | UI Office of Strategic Communication | 5-26-2020
Elyse Laures has been smitten with kids since becoming a big sister at 13. She acquired a passion for taking care of children while watching her baby brother grow and develop through normal childhood milestones. From that point on, she knew her career would involve children.
While earning an undergraduate degree in nursing at Valparaiso University, Laures worked in a daycare, as a tutor and supplemental instructor, and as a student nurse in a pediatric intensive care unit (PICU) in her hometown of Chicago.
Now, as a student in the PhD program in the University of Iowa College of Nursing, she is poised to help improve the lives of kids who need her most: those hospitalized in a PICU. Laures is researching pain assessment in pediatric patients and how nurses make judgments and decisions regarding pain and sedation management. She wants to empower nurses to make the best choices and enrich the healing process.
"PICU nurses are amazing nurses who take care of super sick kids, but there is so much going on in the intensive care unit. From my experience working in the PICU, I have found that there are knowledge and research gaps that need to be filled," said Laures, who moved to Iowa City to work in the PICU at the UI Stead Family Children's Hospital before applying to the PhD program. "We don't want any child to be in pain. That can lead to horrible lifelong effects. Just look at children's fear of needles due to vaccinations and normal procedures that healthy kids have to get. Then compare that to kids in the PICU who can develop PTSD because their experience is just so traumatic."
While validated pain scales are used to help health care teams assess pain in both adult and pediatric patients, Laures says they don't always apply when assessing pain in children admitted to the PICU. There, pediatric patients may not yet be able to communicate, or they may be intubated and requiring sedation or a paralyzing agent to maintain their airway. In her research, Laures has found that nurses often rely on "assumed pain present" when making medication decisions for children who cannot verbally or behaviorally communicate their pain.
"There are no guidelines or research on what to do in these situations. So even though they say you should administer pain medication if a patient is in pain, how are nurses making those decisions for these kids? What is their trigger point?" she said. "While we're waiting for some magical biomarker to be established to identify pain, we need to make sure these kids are being adequately taken care of."
Click here to read the full article by UI's Office of Strategic Communication
# # #