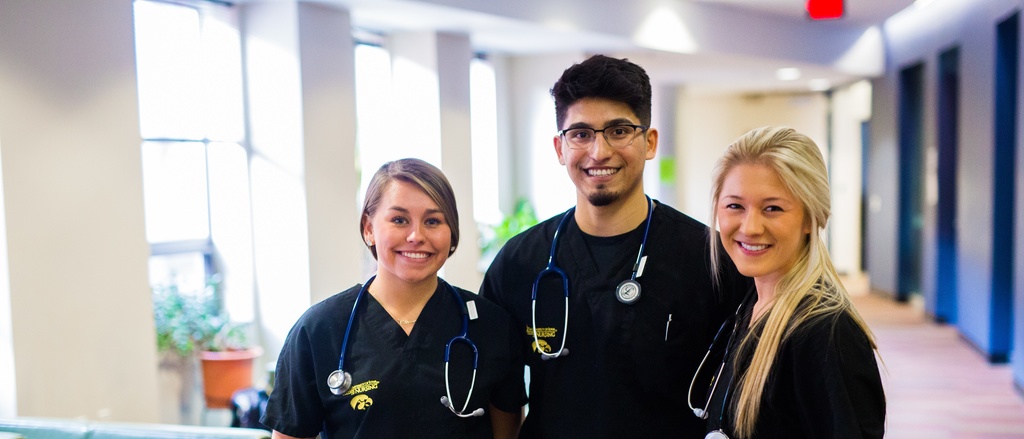 Standard Admission: Bachelor of Science in Nursing - Prelicensure
The next deadline for Standard Admission is April 1, 2023 for study beginning in January of 2024.  Eligible students will have access to the College of Nursing Supplemental Application on the Admission Profile on or after December 1, 2022.  If you have questions, please email nursing-programs@uiowa.edu. 
STANDARD ADMISSION FOR THE PRE-LICENSURE BSN
The College of Nursing recognizes that not all students have completed the requirements for direct admission out of high school and that there are many students who change their majors or pursue a second degree in nursing. The college is committed to offering an equal number of seats to students who follow this pathway. This program is competitive. Students must meet the minimum criteria noted below to be considered for admission to the pre-licensure undergraduate Bachelor of Science in Nursing program. Please note that meeting the requirements does not guarantee admission. Each application is holistically reviewed by faculty. Admission will be offered conditionally pending completion of all requirements.
Students who enroll at the University of Iowa as Nursing Interest students, or transfer students earn admission to the College of Nursing via the Standard Admission process. These students must complete designated prerequisites and apply for admission to the college after or while completing the final prerequisites for the nursing major.
The College of Nursing will admit a cohort of up to 80 students who begin the nursing major each spring semester. Students who choose the University of Iowa directly out of high school will have five semesters to complete prerequisite courses. These students should anticipate a minimum 4.5-year plan of study.
---
ELIGIBILITY FOR STANDARD ADMISSION TO THE COLLEGE OF NURSING
To be eligible for Standard Admission to the College of Nursing students must have completed/be on track to complete specific prerequisite courses and meet certain academic standards.
Required by June 1:
Minimum 3.0 cumulative GPA
No lower than a "C" (2.0) in prerequisites and General Education requirements
Hours Complete: To be considered for Standard Admission, applicants must have a minimum of 48 s.h. completed by June 1
Natural Science Prerequisites: To be considered for Standard Admission, applicants can have no more than two natural sciences incomplete on June 1. All natural sciences must have been completed within 10 years of matriculation (enrollment) in the nursing major
Social Science Prerequisites: To be considered for Standard Admission, applicants can have no more than two social sciences incomplete on June 1
Applicants for whom English is not the first language please see TOEFL information below
Required at time of matriculation/enrollment in the nursing major:
A minimum of a 3.0 cumulative GPA
A minimum of 64 s.h. of completed course work (although a total of 67 s.h. allows the student to only have nursing major courses remaining should the student be selected for admission)
All natural science prerequisites have been completed within the past 10 years
All social science prerequisites must be completed
General Education Prerequisites (all must be completed before starting the nursing major) Literary, Visual and Performing Arts International and Global Issues Values & Culture or Diversity & Inclusion* *Diversity & Inclusion courses are only available at the University of Iowa
All high school requirements must be completed; deficiencies in high school can be satisfied with collegiate course work and,
World Language requirement must be completed
---
APPLICATION PROCESS
Current University of Iowa students should fill out the Change of College application located in MyUI. These students should work closely with their Academic Advisor to ensure they are on target for meeting all of the eligibility and admission requirements.
New transfer students should fill out the transfer application to the University of Iowa and select the College of Nursing. Click on the Transfer Admission Application to begin. Note that we only accept Standard Admission applications for the spring semester.
The Change of College and New Transfer application will open each cycle on December 1.
All complete Standard Admission applications will be reviewed by the faculty admission committee. Admission is competitive, thus, meeting the minimum requirements does not guarantee admission.
---
APPLICATION COMPONENTS FOR STANDARD ADMISSION
The Supplemental Application includes several essay questions and an activities/experiences list.
The essay questions are a very important part of your application We recommend you prepare responses in a separate document (using Microsoft Word or a similar program) and paste them into the supplemental application. Preparing your response in a separate document will allow you to check your spelling and save your responses should you want to refer to them at a later date. Each essay question has a 1,500-character limit. A space is considered a character.
Students also have the opportunity to submit an Activities list and Work/Volunteer Experiences list and can share several activities they have been involved in within the past five years that they would like to share with the faculty. This information is an equally important part of the faculty review process.
---
APPLICATION DEADLINES
The application deadline is April 1 (typically during a student's second year).
In order for an application to be reviewed, students must meet all of the eligibility criteria and submit official transcripts. Transcripts must be received at the University of Iowa Office of Admissions by June 1.
Please have official transcripts mailed to:
Office of Admissions
The University of Iowa
107 Calvin Hall
Iowa City, IA 52242-1396

Electronic transcripts can be sent to admissions@uiowa.edu; however, for transcripts to be considered official, they must be sent directly from the student's school.
Students are typically notified of admission decisions in early July.
---
ADMISSION
FACTORS CONSIDERED FOR ADMISSION
The following factors are considered by the admissions committee while reviewing applications. This list is not all inclusive. It is in alphabetical order and does not designate order of importance:
Academic Preparation, including GPA

Advanced Placement/Honors/Dual Enrollment Credit

Demonstrated commitment of service to others

Contribution to the College of Nursing commitment to diversity and inclusion

Essay responses

Experience that develops qualities that contribute to becoming a nurse

Experience in caregiving

Military service

Understanding of Professional Nursing Practice
---
POSSIBLE FALL START
In the rare event that seats become available in a fall-start cohort, the College of Nursing will consider offering a fall start to students who have applied and been selected for admission for the spring session and who meet the following criteria:
Meet all published admissions standards, including a minimum 3.0 cumulative GPA
Have a minimum of 90 s.h. earned toward a degree, or have already earned a non-nursing undergraduate bachelor's degree
Have completed all prerequisites, including Health Care Finance, general education coursework, world language, and the physics requirement by June 1 of the application period
If you meet these criteria, please contact your academic advisor for guidance in developing an appropriate plan of study.
---
TOEFL REQUIREMENT FOR ADMISSION TO THE COLLEGE OF NURSING
International students who wish to enroll in the College of Nursing for either Direct Admission or Standard Admission must meet the requirements listed for that pathway. International students for whom English is not the first language also are required to complete the following:
For students (early admission or transfer) who are new to the University of Iowa and admitted directly to the College of Nursing as a pre-licensure BSN student, a score of 100 on the iBT TOEFL is required.
University of Iowa students who are interested in studying nursing at Iowa, but have not yet earned admission to the College of Nursing must present a minimum iBT of 81 with no subscore lower than 17, and complete the English Proficiency Evaluation (unless they have a TOEFL score of 100 or higher on the iBT). Students may be required to complete English as a Second Language course work if specified as a result of the English Proficiency Evaluation. If such course work is required, it must be completed prior to the start of the nursing major.
Exemptions may be granted for persons who have completed a bachelor's degree (or higher) at an accredited university in the United States, United Kingdom, Ireland, Canada (excluding French Quebec), Africa (English speaking), Australia, or New Zealand.
---
TRANSFER STUDENTS
PLANNING FOR TRANSFER STUDENTS
Students who are completing pre-requisites for the pre-licensure BSN program at a different college/university should begin with a transcript evaluation. This information from this free service will be invaluable to you as you prepare to meet the requirements for time of application and time of matriculation (enrollment) in our program should you be selected for admission.
Transcript Evaluation:
Collect transcripts from all institutions where you have completed collegiate coursework. Scan the documents so that they can be attached to an email (pdf preferred). For a transcript evaluation, we do not need to see official transcripts. When you apply for admission, official transcripts will be required.
Send an email to nursing-programs@uiowa.edu and attach all transcripts. Please write "Transcript Evaluation Request" and your name in the subject line.
In the text of the email, please note whether you completed one year of physics in high school, the number of years of which world (foreign) language that you completed in high school, and the list names of all institutions where you have completed collegiate coursework.
An evaluation will be completed and returned to you electronically. 
Finding Comparable Courses: To search and identify comparable courses at another institution, please utilize our transfer equivalency database, which is available at myui.uiowa.edu/my-ui/courses/transfer Or see our College of Nursing Transfer Guides for course equivalencies at select Iowa and Illinois community colleges.
---
Questions?
Please contact the college's Advising Staff in the Felton Student Success Center in the College of Nursing at 319-335-8216 or nursing-programs@uiowa.edu