Established over forty years ago, the

Midwest Nursing Research Society

 (MNRS)

 is a place for nurse scientists and researchers at all career levels to learn, collaborate, and grow the field.

Dr. Wen Liu received the 2022 MNRS

Harriet H. Werley New Investigator Award

,

which

recognizes the scientific contribution of a member with potentially significant and impactful research who is within seven years of completing their doctorate.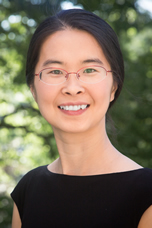 For people with dementia and their caregivers, mealtime can be incredibly challenging. People with dementia commonly experience functional, cognitive, and behavioral symptoms that interfere with social interactions and mealtimes and, in part due to these mealtime difficulties, have high rates of malnutrition, weight loss, and dehydration. Among people living with advanced dementia in residential care settings, 31-63 percent have low food intake, 94 percent are at risk for malnutrition, and 66.5 percent are already malnourished. These consequences further lead to increased infection, decreased quality of life, and increased morbidity and mortality.
Current mealtime assistance interventions primarily focus on the use of feeding skills and do not show evidence that they are improving mealtime difficulties or intake. Similarly, prior research has been focused on direct feeding and alleviating behaviors such as turning the head away during mealtime. This one-sided approach is facilitated by long-held beliefs that meal assistance is merely a task to be completed. Despite the increased risks and consequences, the science has not prioritized equipping direct dementia caregivers to provide optimal mealtime care.
Since beginning her research career in 2008, Dr. Wen Liu has sought to address the gap that exists in creating and implementing person-centered mealtime care interventions – interventions that are individually tailored and provide choices, acknowledge preferences, support independence, show respect, and promote interaction.
Her innovative program of research in dementia mealtime care has been built deliberately and systematically, and is significant in its direct translatability to inform clinical practice.
"This person-centered mealtime care effort is particularly compelling because minimizing challenging mealtime behaviors should not only result in slower decline in resident outcomes, but also result in decreased length of mealtime and increased care quality, ultimately saving staff time, increasing staff job satisfaction, and decreasing caregiving burden during meals, unlike most interventions that are an add-on to staff effort," wrote Dr. Liu's mentor, Dr. Barb Rakel, in her nomination letter. "Dr. Liu has identified a crucial but neglected problem in the care of the increasing aging population with dementia, as well as an innovative and well-founded approach to address it."
Liu received her PhD from the University of Maryland at Baltimore in 2015 and joined the University of Iowa College of Nursing as assistant professor soon after. Since joining the College, she has secured six grants (more than $1.1 million) from the National Institutes of Health and others as primary investigator, and contributed as co-investigator, consultant, and/or advisor on seven additional grants. She is also building research pipelines through mentoring undergraduate, graduate, and doctoral students from various disciplines, mentoring post-doctoral trainees and junior faculty, and teaching undergraduate and graduate courses.
 "We are very pleased that Dr. Liu has received the prestigious Harriet H. Werley New Investigator Award," said College of Nursing Dean Julie Zerwic. "Her research is innovative, collaborative, and highly significant, and we are proud to have her at the University of Iowa College of Nursing."  
Read about other 2022 MNRS Award Winners: