Established over forty years ago, the Midwest Nursing Research Society (MNRS) is a place for nurse scientists and researchers at all career levels to learn, collaborate, and grow the field.
MNRS is one of the largest nursing research societies in the country, and "the mentoring, networking, resource development, and collaboration that are central to this Society have significantly influenced nursing research on a national scale and are becoming increasingly highly regarded on a global level," according to a 2017 article in the Western Journal of Nursing Research.
The annual conference is one of the highlights of the year for nursing students and faculty alike. Twenty-five University of Iowa College of Nursing faculty and students were invited to present at the 2022 conference held in Schaumburg, Illinois, in April, and twelve were recognized with awards.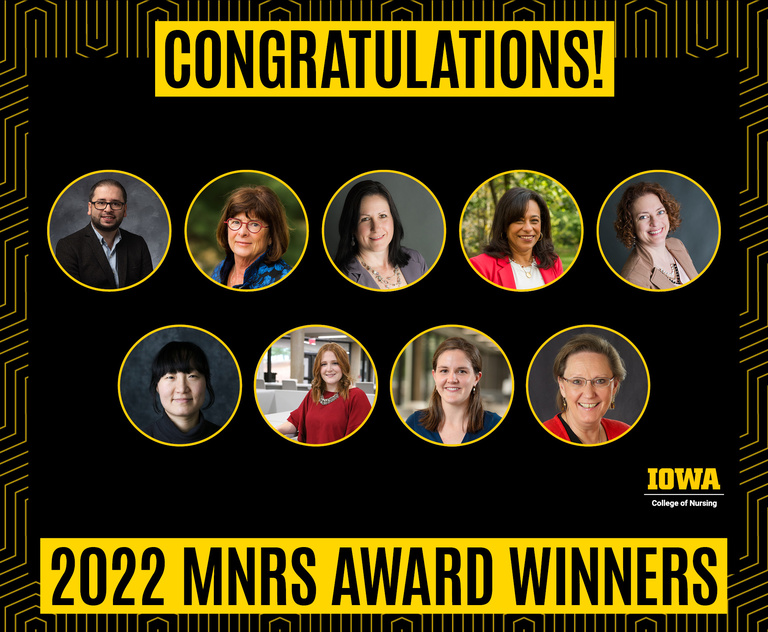 In addition to the Lifetime Achievement Award, the Distinguished Contribution Award, and the New Investigator Award, College of Nursing students and faculty received grants, distinguished abstracts, and Research and Implementation Interest Group (RIIG) awards.
"I would like to extend congratulations to all of our MNRS award winners," said College of Nursing Dean Julie Zerwic. "These awards reinforce what we already know – your commitment to the advancement of the science of nursing is unmatched and your research, dedication, and passion are an asset to Iowa and the nation."
The College of Nursing would also like to congratulate Professor Emerita Kathleen 'Kitty' Buckwalter, PhD, RN, FAAN on her election as president of the MNRS board. Buckwalter began her two-year term in March 2021.  
RESEARCH AND IMPLEMENTATION INTEREST GROUP (RIIG) AWARDS
Gerontological Nursing Science RIIG
PhD Dissertation Award – Clarissa Shaw, PhD, RN
Senior Nurse Scientist Award – Kathleen 'Kitty' Buckwalter, PhD, RN, FAAN, and Marianne Smith, PhD, RN, FAAN
Pediatric RIIG
Outstanding Dissertation Award – Elyse Laures, PhD, RN
Palliative and End of Life Care RIIG
Graduate Student Award – Alaa Albashayreh, PhD, MSN, RN
DISTINGUISHED ABSTRACT
Using Machine Learning (ML) to Identify Nurse Fatigue and Recovery Patterns and their Relationship with Medication Errors and Near Misses
Overall Understanding of Veterans at Risk for Persistent Post-Surgical Pain Prior to Total Knee Arthroplasty
MNRS 2022 SEED GRANT
Jacinda Bunch, PhD, RN, SANE-A and Patricia Groves, PhD, RN
Frontline Nursing Management during COVID-19
LIFETIME ACHIEVEMENT AWARD
Ann Marie McCarthy, PhD, RN, PNP, FAAN
DISTINGUISHED CONTRIBUTION AWARD
HARRIET H. WERLEY NEW INVESTIGATOR AWARD